RATING:

9.8
Home
>
Facebook
>
Angry Birds
>
Review
By: Jeff Davis | Apr 19th 2012
You may be familiar with Angry Birds, or at least heard of it at some point.
Well, I'm here to say that the hit mobile game has been adapted for Facebook users, and it's just as fun and addictive as the on-the-go original.
The concept is simple and easy to understand. Simply click and pull back on the birds when they load into the slingshot, and aim for the complicated structures that hold up the pigs that made off with their eggs. The more havoc you dish out onto the structures, the higher your score. The higher your score, the better your rank for that level. The higher your rank, the more stars you get up to a total of three. The more stars you get... well, I'm sure you can see where this is going. Of course, you still have to open up a can on every single pig in the level, or else it's game over for you (meaning that you have to obliterate all of them, in layman's terms).
Anyway, the Facebook version adds a few new twists to an already excellent game. You can earn power-up items on a daily basis just by logging into the game from your Facebook account. To name an example, there's a "bird-quake" power-up that literally takes off on its namesake by shaking the pig structures at the core, thereby saving you at least one bird so long as you have one of these bad boys. The highest-ranking player on your Facebook friends list is also displayed in the upper right (along with your own personal avatar), and if you cream the hell outta his/her score, that avatar pic goes poof, leaving yours all to itself. Add the ability to share your high scores within your Facebook timeline, and spreading the word about your Angry Birds skills has never been easier.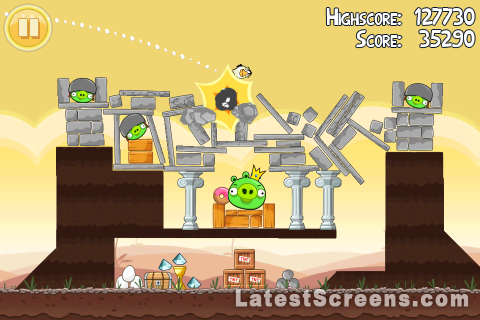 In short, the Facebook adaptation of Angry Birds does a big deal of hard-hitting justice to the phenomenal mobile gaming hit that set off a mobile gaming revolution that legitimized the iPhone and other smart devices as a bona-fide gaming platform category. Rovio has clearly taken great care in setting up its Facebook premiere for the Angry Birds franchise in a way that makes the game just as amazing than the on-the-go implementation that we all know and love, if not even more thereof. Angry Birds should definitely be on your radar, even on Facebook. It's that damn good.